Military Barrier Defensive Barrier Bastion Soil-filled Gabion Barriers-The Best Bulwark for Army
Views:42 Author:Site Editor Publish Time: 2019-04-26 Origin:Site Inquire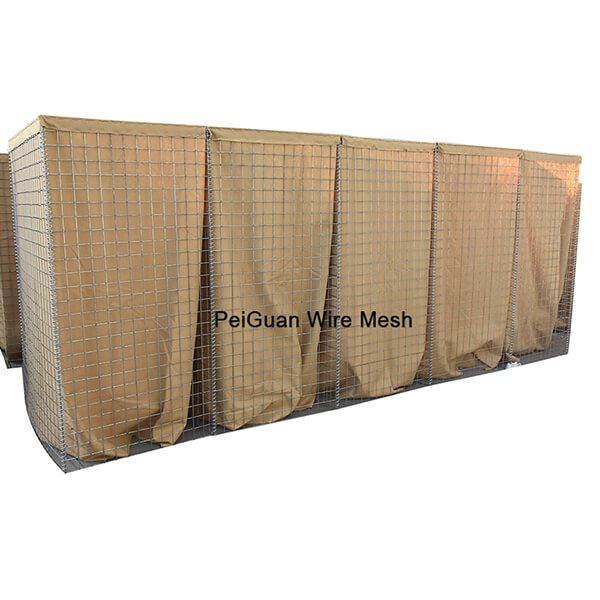 Military barrier defensive barrier bastion is the best bulwark for army camp bastion or military base in Afghanistan, Syria, Yemen, Iraq, Iran, Turkey, many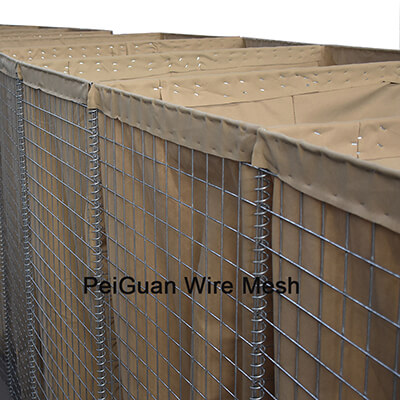 Middle East countries. It is one soil-filled gabion barrier lined with geotextile which can be quickly installed and deployed during the war. Military barrier defensive barriers bastion gabion barriers are a common sight around forward operating bases in current theatres. These bulwarks are constructed from gabions, wirework containers filled with local rocks and sand, soil, manufactured by PeiGuan Metal Wire Mesh, which can be untraveled from the back of a truck in minutes, with minimal manpower and filled with local desert soil, sand and rocks by digger trucks.
Military Defensive Barriers are designed to prevent shore erosion and act as a retaining wall, but they were soon identified by the military as a potential protection system. There are various dimensions to choose for your project, Anping PeiGuan Metal Wire Mesh Products Co.,Ltd is one experienced manufacturer of military barrier gabion mesh in China. The defense barriers'metres-thick remparts are as impervious to attack as any historic fortification in military base, and have proved resistant to very modern attacks, from rockets to vehicles being driven into them.
The following specification is the normal structure of MIL units(Military Defensive Barriers), welcome to inquiry us the latest price.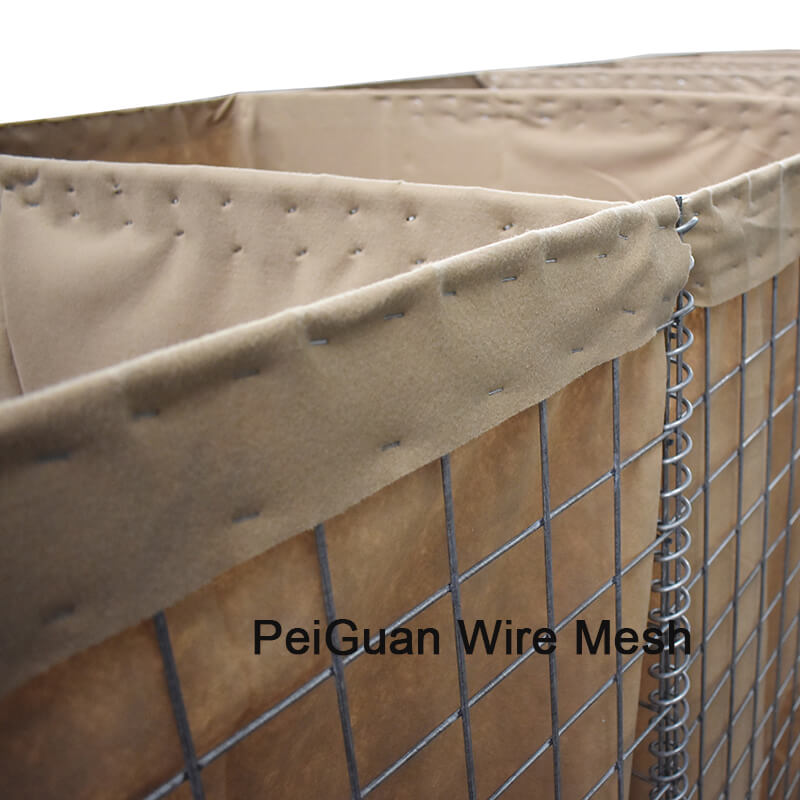 BASTION BARRIER DIMENSION SHEET

ITEM NO.




Height(m)

Width(m)

Length(m)

Cell No.

MIL1 5442R

54''(1

.3

7

M)

42''(1.06M)
32'9''(10M)
5+4
= 9 cells

MIL2 2424R

24'' (0.61M)
24''(0.61M)
4'(1.22M)
2 cells

MIL3 3939R

39''(1.00M)
39''(1.00M)
32'.9''(10M)
5+5
=10 cells

MIL4 3960R

39''(1.00M)
60''(1.52M)
32'.9''(10M)
5×2+5×2
=20 cells

MIL5 2424R

24''(0.61M)
24''(0.61M)
10'(3.05M)
5 cells

MIL6 6624R

66''(1.68M)
24''(0.61M)
10'(3.05M)
5 cells

MIL7 8784R

87''(2.21M)
84''(2.13M)
91'(27.74M)
5+4+4
=13 cells

MIL8 5448R

54''(1.37M)
48''(1.22M)
32'.9''(10M)
5+4
=9 cells

MIL9 3930R

39''(1.00M)
30''(0.76M)
30''(9.14M)
6+6
=12 cells

MIL10 8760R

87''(2.21M)
60''(1.52M)
100'(30.50M)
5+5+5+5
=20 cells

MIL11 4812R

48''(1.22M)
12''(0.30M)
4'(1.22M)
2 cells

MIL12 8442R

84''(2.13M)
42''(1.06M)
108'(33M)
5+5+5+
5+5+5
=30 cells

MIL19 10842R

108''(2.74M)
42''(1.06M)
10'5''(3.18M)
6 cells