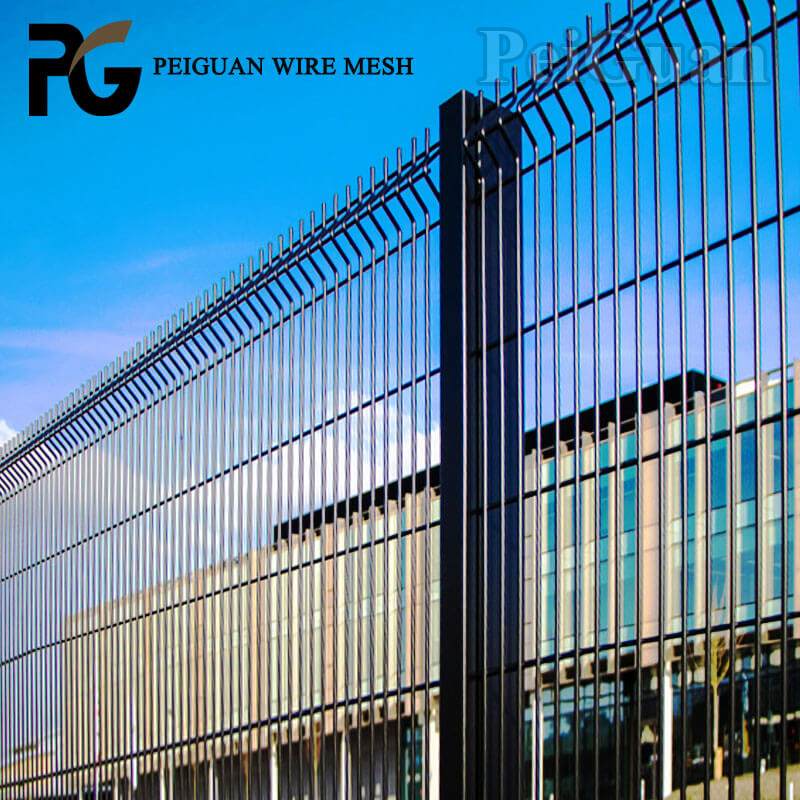 358 anti-climbing net, known as "prison net", is a high-security anti-climbing and anti-cutting welded steel wire mesh. It has the function of preventing radiation and corrosion. Usually, galvanized wire is welded into fence panels with very fine openings, which cannot be pierced with fingers or cut with bolt cutters. Therefore, it is strongly recommended to use it in areas and private living places that require high security.
The name of the 358 high security fence comes from the size and wire diameter of the panel mesh: 3 inches × 0.5 inches × 8 specifications, which is approximately equal to: 76.2 mm × 12.7 mm × 4 mm. It is recommended to use a solid structure and corrosion resistance as a welded metal fence, galvanize after welding, and then apply PVC coating.
358 anti-crawl function:
Anti-climbing: The opening is so small that the fingers cannot penetrate.
Anti-cutting: Bolt cutters and bolt cutters cannot pass through narrow holes, so they will not damage the fence.
Firm welding point: The welding joint is firmly fixed and will not be split by man-made and natural forces.
Smooth surface: The proportion of the finished surface of the panel is well-proportioned and has a decorative effect.
Durable: The panel is evenly galvanized and PVC coated to ensure a long service life.
358 anti-crawl application:
358 anti-climbing fence is a high-security fence, suitable places include:
prison.
Military site.
Detention center.
Psychiatric hospital.
airport.
bridge.
substation.
Port of shipment.
warehouse.
power plant.
laboratory.
Protection of petroleum and chemical facilities.
Industrial and commercial property, etc.
358 anti-crawl specifications:
Panel size:
Grid pattern: 76.2 mm (3 inches) x 12.7 mm (0.5 inches).
Wire diameter: 4 mm horizontal and vertical lines.
Welding strength: range 540-690 N/m2.
Surface treatment: 358 fence board made of galfan wire, then PVC powder coating (minimum 100 microns) or PVC powder coating. It provides extra protection and extends the service life.
Color: green (RAL 6005), black (RAL 9005). All RAL colors are available.
Accessories: Column, Column Foot, Barbed Wire, Slotted Clamping Rod, Column Cover, Bracket, Bolt, Washer, Nut, Washer, Clip, etc.
Fence
Material: High-strength steel, with the greatest strength and rigidity.
Column section: 60×60 mm, 80×80 mm, 100×100 mm, 120×120 mm.
Column thickness: 2.5 mm or 3.0 mm, 4.0 mm, 5.0 mm.
Finished: Galvanized inside and outside (minimum 275 g/m2), then covered with polymer powder (minimum 60 microns).
Color: the same as the panel.
Top cover: metal cover or plastic cover.
The metal clamps and fixtures are hot-dip galvanized and then painted with green or black powder coating.
notes:
The diameter of our fence line is between 2-6.5 mm, the mesh can be 75 mm × 12.5 mm, 100 mm × 15 mm, and other opening sizes can be provided on request.
The maximum width is 2.515 m. It can also provide 2.0 m and 2.2 m upon request.
The height of the fence varies from 2.0 m to 5.2 m.
The 3 m high fence is usually used in schools, residences and entertainment venues, while the 5.2 m high fence is used in prisons and military sites.
Our 358 high-security grid fences can be manufactured with double-layer vertical wires to meet the highest level of security requirements.
installation:
The panels can overlap at least 75 mm on each terminal and are fixed with slotted clamping rods and bolts.
The panels can be non-overlapping but can be tied together with square brackets.
The spacing between the pillars is preferably 0.3 m.
A complete installation guide can be provided upon request.
358 Anti-crawling packaging:
358 mesh fence panels are installed in metal or wooden pallets, wrapped in plastic film, and then firmly wrapped with tape to ensure the safety of storage and transportation.