China manufacturer of Hesco Bastion Wall Blast Barrier
Views: 40 Author: PG-MESH Publish Time: 2018-02-04 Origin: Site Inquire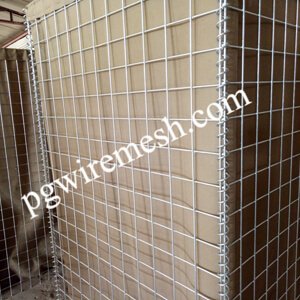 Bastion Wall is a multi-celluar barrier system which is assembled by galvanized steel mesh panels, spiral coils and heavy duty non-woven geotextile. Hesco Blast Barrier is also called as defence barriers,gabion barriers which is usually used as temporary or semi-permanent dike against explosions or flood.
Rapid & Easy Deployment
All the blast barriers we made will be packed in pallets to transport to your project site. When you get the bastion barriers which has a less 4 feet of height, only need 2 persons to pull it open to deploy a security bastion wall. It costs much less manpower than sand bags.
Durable & Rigid Structure
The steel wire material of welded mesh panels for defence barrier can be hot-dipped galvanized steel wire or galfan wire which has a thick zinc layer. As we know that both of the galvanized wire and galfan wire have a long service life. The heavy zinc coating of steel wire make the welded mesh more anti-rust. Moreover the geotextile inside is very durable non-woven geotextile which can prevent the filling materials flow out.
Any further details about Hesco Wall you want to know, please contact us(PG-MESH).