Folding defensive barrier filled with sand blast barrier wall for protection against bomb China manufacturer/factory
Views:8 Author:PG-MESH Publish Time: 2018-05-24 Origin:Site Inquire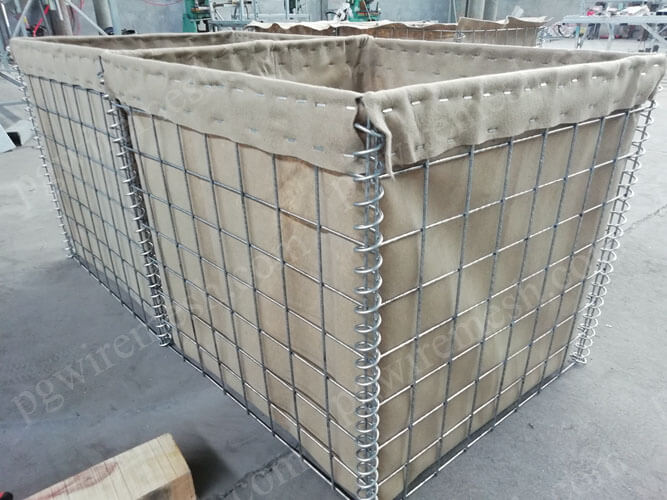 Folding defensive barrier filled with sand also can be called as blast barrier, blast wall, hesco defensive barrier, hesco concertainer, hesco bastion wall,geotextile lined flood barrier, military sand wall,etc. Folding defensive barrier is one easy transported and rapidly deployed military fortress, it is widely used for protection against car bomb, rocket propelled grenade, especially in war countries.
Folding defensive barrier can be pulled out to extend the length of blast barrier wall by using the joining pins/rods, after unfolding the defensive barriers they would be getting multi-cellular defensive barriers which can be filled with sand, earth, gravels, stones, sediment,etc.
The reason why the folding defensive barrier can be folded to be packed in pallet just because the weld mesh panels are acrossed by sprial coils, then the assembled weld mesh frame would be lined with heavy duty non-woven geotextile.
The deployed folding defensive barrier can be filled with sand by front end loader quickly, it would save ten time than sand bags and with less manpower, so the folding defensive barrier is very popular around the military field, the effective building time is the main reason why military sector likes the military sand wall.
China Anping PeiGuan is one director and professional manufacturer of folding defensive barrier in China, welcome to inquiry us at any time.