Hesco Defensive Barrier China Manufacturer
Views: 4 Author: PG-MESH Publish Time: 2018-03-31 Origin: Site Inquire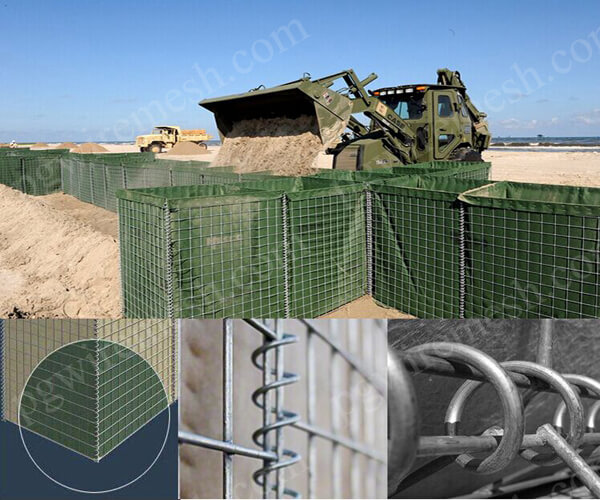 Hesco defensive barrier blast wall has been a key component in providing Force Prection against bombs since the Gulf War. The hesco defensive wall has been deployed by the Armed Forces of U.S., NATO, the United Nations and other military forces throughout the world. Hesco defensive barriers are extensively used as a rapid military fortification sytem to protect personnel and key assets in military, peacekeeping, humanitarian and civilian operations.
Hesco Defensive Barriers Features & Application:
It is a pre-fabricated gabion box made of galvanized steel wire or galfan wire(zinc-aluminum wire).

With a heavy duty non-woven polypropylene geotextile liner.

Filling materials are easy-obtained mix of earth, sand, rubbles, gravel,cement or small stones even any local sediments.

Can be extented to longer blast wall by joining pins, and can be stacked up for additional height.

Originally used as a temporary or semi-permanent dike to prevent flood.

Widely used in providing protection in military such as building the border security wall, check points,border points, aircraft revetment, ammunition and fuel storage bunding.

Ten times faster to erect than sandbags, five times less manpower than sandbags.
Any inquiries about hesco defensive barriers you have, please do not hesitate to contact us.