Hesco Earth-filled Storm Flood Barrier Made in China
Views:7 Author:Site Editor Publish Time: 2018-03-24 Origin:Site Inquire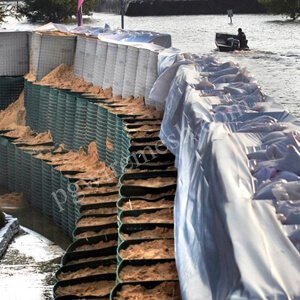 China Hesco earth-filled storm Flood barrier is a modern gabion barrier which is a combination of welded mesh frame and geotextile. Hesco flood barrie is usually used for emergency flood or long-term substainability projects such as border wall for security, permanent dike for flood or strom protection.
A wall using earth-filled storm barrier can be filled by two persons and a standard front-end loader in just 15 minutes, the equivalent size of sandbags wall will take about 10 persons 8 hours to fill and build the blast wall. That is significant to deploy and build a flood prevention wall rapidly to response the emergency flood or storm.
Even if you want to reuse the blast barrier when the mission is over, just pulling out the joining pins the filling materials of recoverable bastion barrier will flow out, then the bastion barrier can be removed and transported to another project site.