Hesco Flood Barrier or Earth-filled Barrier for Flood Control Solution China manufacturer
Views:5 Author:PeiGuan Metal Wire Mesh Publish Time: 2018-06-21 Origin:Site Inquire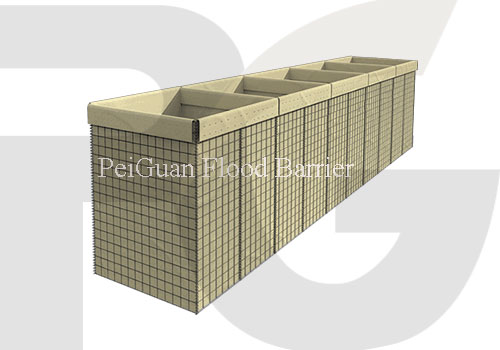 Where to find a good solution for flood control? Hesco flood barrier or earth-filled barrier made by China PeiGuan can provide you a good solution for flood prevention.
When the flood season is coming, meanwhile the landslides and mudslides mostly happens. When the flood moves too fast, climb the roof, the trees, the high walls and wait for rescue.
Hesco flood barriers are a reliable, easy-to-deploy and robust solution for emergency flood prevention when you encountering the floodwater. Hesco earth-filled barriers are widely used to protect homes during winter floods, ensure critical infrastruscture remained functioning during hurricanes or storms.
A flood wall using hesco earth-filled barrier can be constructed by two persons and a standard front-end loader in just 20 minutes, but building the equivalent sized flood wall of 1,500 sandbags need take 10 persons up to 7 hours to fill and build, so building a hesco flood barrier using earth-filled barrier is very effective and cost-effective for you.