Hesco defense wall military sand wall bastion barrier concertainer units China factory/manufacturer
Views:46 Author:PG-MESH Publish Time: 2018-05-14 Origin:Site Inquire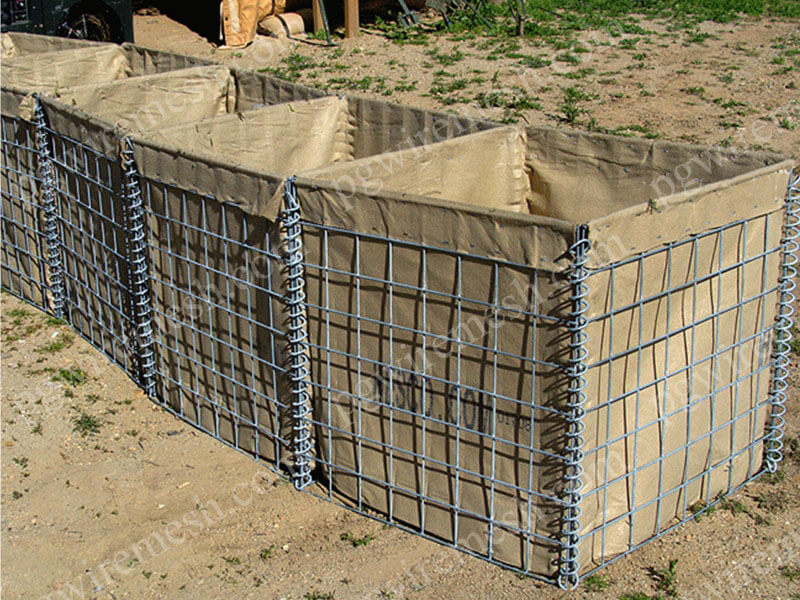 Hesco defense wall is also called as military sand wall, military bastion barrier, hesco concertainer units, hesco military defensive barrier,etc. In recent years military experiences has shown that increasing the security of the troops, equipment and materials is basic in the military operations.
Nowadays the terrorrist attackers, suicide bombers and insurgents engaged in a growing number, continue guerrilla warfare and use artillery, missile equipment, improvised explosive devices, therfore it became necessary to review the Force Protection and to developed new procedures, methods.
Hesco defense wall is playing an important role of protecting military troops and equipment as the fortification. Because today's terrorist and insurgent are employing targeted mortars and artillery rockets, resulting in casualties being sustained inside hetherto safe camps. Hesco bastion barrier can provide the strong stucture against bombs in the war. This attacks has resulted in many countries with troops deployed in hostile environments demanding the provision of overhead protection, for either living accommondation or for cabins housing camp critical or mission critical assets.
The best solution would be using hesco defense wall military sand wall to strength the structure and their plate floor. For this was born the extended overhead protection system. It was developed as a response to the threat of attack by Vehicle Born Improvised Explosive Device(VBIED), defense walls built from concertainer units were developed, and have become the standard equipment for protecting personnel, equipment and facilities from a wide range of munitions and Improvised Explosive Devices(IED).
Anping PeiGuan Metal Wire Mesh(PG-MESH) can manufacture various dimensions of hesco defense wall military sand wall bastion barrier concertainer units. Welcome to inquiry us at any time.