How to install the Hesco Barrier Bastion?
Views:63 Author:Site Editor Publish Time: 2017-11-08 Origin:Site Inquire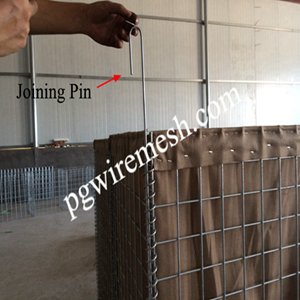 Anping PeiGuan Metal Wire Mesh Products Co.,Ltd is a original and professional manufacturer of the Hesco Barrier in China.As we know that the Hesco Bastion is usually used for flood control and military fortification.
When you get the Hesco Bastion Barrier, all the Bastion Barriers are packed in pallet, so if we want to install the Bastion Barriers, we will do the following procedures:
Unpack the Hesco Barriers.

Pull out them and set up.

Connect together by Joining Pin, we can see the Joining Pin from above picture, the diameter of Joining Pin is usually 4mm and the material is galvanized steel wire.

Fill the sand, earth, cement, stone or soil and compact then as a defence wall or bunker.