How to repair the damaged hesco bastion barrier units?
Views:75 Author:PG-MESH Publish Time: 2018-03-30 Origin:Site Inquire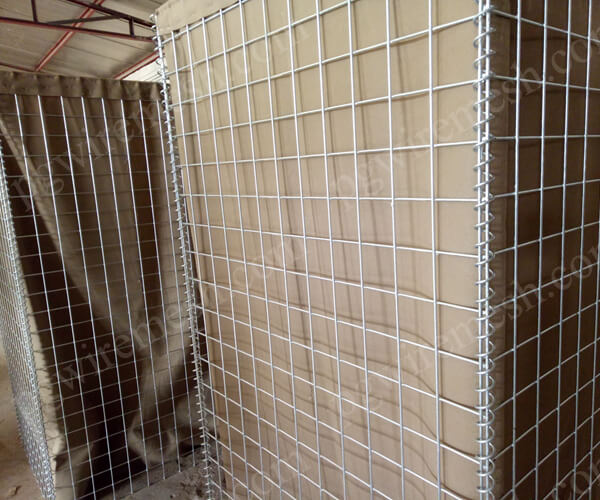 On the below picture, we can see that the soil has flowed out the damaged hesco bastion unit. Is it really working to repair the damaged hesco bastion barrier?
One day one clinet from Sudan found my whatsapp and then asked me if we can give some proposals on how to repair the damaged hesco bastion units. He told me that the welded mesh frame and geotextile of hesco bastion unit has been broken and the soil has flowed out a bit. His main work is to maintain the broken hesco barrier units, this hesco building was built by United Nations and used in cities, so one good looking apperance of hesco wall is significant.
Then he told me about her idear that he want to extract the soil and welt the wires again, putting a new geotextile, returning back the soil. How simple her thoughts are ! But do you also think it is able to do like that ? The answer is absolutely no, if you do like what he said, it is very difficult to extract the soil out because the upper soil would flow out continuely if you extract the below soil.
So we can see that how important it is to find one honest manufacturer of hesco barriers with high quality. Anping PeiGuan Metal Wire Mesh Products Co.,Ltd is one professional and direct manufacturer of hesco barrier bastions in China. We have 5 advanced welding machines to produce the welded mesh panels with strong and firm welding points. The firm welding points can ensure the welded mesh frame a strong structural integrity. Let us say no to the damaged hesco barrier units, because the repair work to maintain the broken units is very difficult. If you do not want to do the repair work, please order the strong security hesco defensive barriers from us, we will provide the durable hesco bastions with high quality.