MIL 1 Military Bastion Wall Blast Barrier China Factory
Views: 5 Author: PG-MESH Publish Time: 2018-03-22 Origin: Site Inquire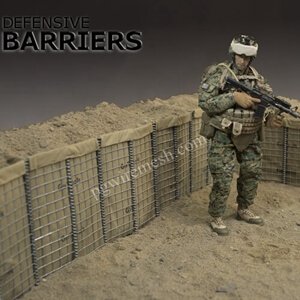 MIL 1 hesco barrier is also named as military bastion wall, it has the opened dimesion of 1.37m height×1.06m width×10m length, one unit includes 1×5,1×4 cells. The galvanized steel wire of weld mesh frame usually is 4mm thick and the mesh size is 75mm*75mm or 3inch*3inch, 300g/m2 heavy duty non-woven geotextile is the most prevalent.
Military bastion wall is widely used as antiknocked wall to protect civilian and military personnel against bombs. It is a huge sand wall filled with sand or earth, the local filling materials can be found at any eroded sites such as river bank, marsh, hill, beach,etc.
Military explosion-proof bastion barrier is a modern gabion which is made of welded mesh frame and lined with heavy-duty non-woven geotextile. Since its first use in the gulf war, it has became synonymous with military barrier fortification system. It can effectively stop the bullets and rockets in the war. Even at the peace period, the military organization can use the military bastion wall to build their own firing range for training.