Recoverable MIL1 Military Defensive Barrier Ballistic Barrier With Beige Color Geotextile
Views:20 Author:PeiGuan Metal Wire Mesh Publish Time: 2018-07-10 Origin:Site Inquire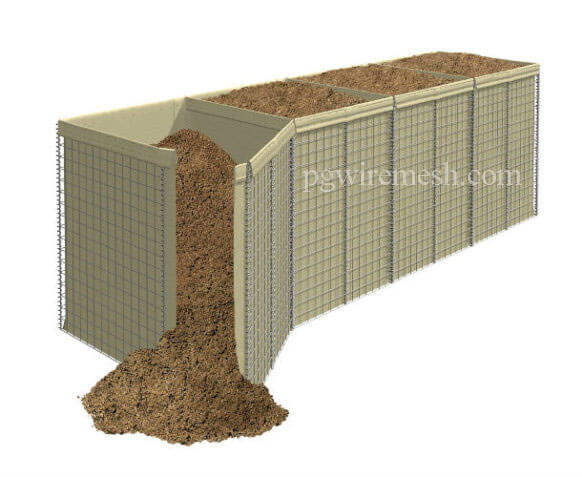 PeiGuan China Military Defensive Barrier Ballistic Barrier provide protective solutions for military security and environmental protection everywhere in the world. Geotextile lined defensive barrier can be filled with sand, earth, crushed stones,etc. So it is also called as military sand wall, military sand bags.
What is the specification of Recoverable MIL 1 Military Defensive Barrier Unit?
1. The height: 1.37 meter
2. The width: 1.06 meter
3. The length: 10 meter
4. The wire: It must consist of sand packed container made out of aluminum, which coated with Zinc protected by 4 mm steel wires. The network measurement is 3in * 3in. All the used wires are meeting the standard requirements of BS EN 1208-2:2012, as that the zinc-coated aluminum does meet the standard requirements of BS EN 10244-2:2009.
5. Ground Texture: the underlay container must be from the non-texture polypropylene substance in which be valid for 5 years.
6. Heavy Duty Non-Woven Geotextile: 300g/m2
7. The unit consist of two masses of equipped cells measured as (1 *4) and (5 * 1) connected nails to link the masses to become a fully completed cell.
8. There must be no gaps such as weak entry points and fires lines or low protected from the shells in barriers system.
9. Publishing Operation: the unit MIL1 must be design, so it can be quickly published as it can resist the hardest environment circumstances.
10. Reusability: the container must be capable for re-using process.
Any inquiries about MIL 1 military defensive barrier please contact us now.