Specification of Hesco Ground Sangar Made of Sand Bags(Military Defensive Barrier)
Views:85 Author:PeiGuan Metal Wire Mesh Publish Time: 2018-07-09 Origin:Site Inquire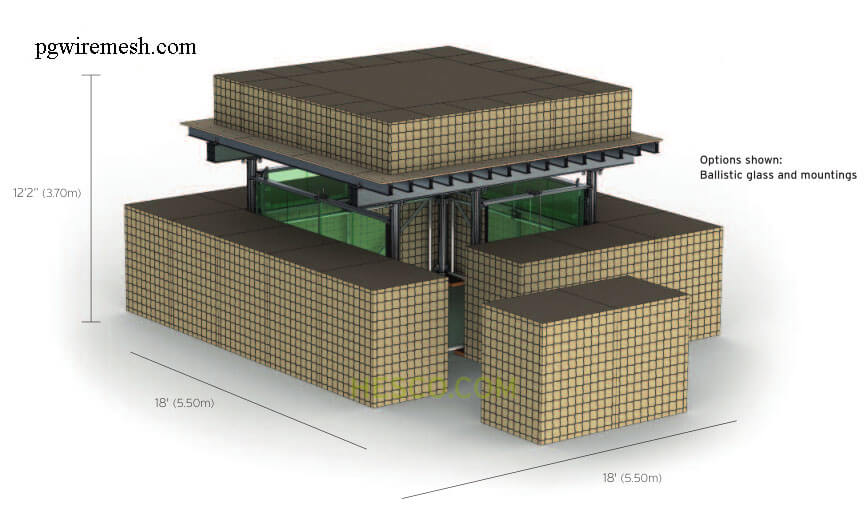 Hesco ground sangar is a aggregate that is stacked up by sand bags , it is widely used as army barricades in military camps, so it is also called as military defensive barrier. There are requirements to provide fully guard and control rooms with its top cover where this room supposed to have sides walls made out of dust-loaded containers, which have enough height, depth and hardness to provide protection from a large group of weapons systems. These sides' walls supposed to have the capabilities to easy update to provide additional protection when the threat level increased.

As it suppose for the ground sangar top protective celling room to provide protection "with previous experiment" against indirect firearms such as mortar bombs "HAWN "
In addition, the dust-loaded sanding containers should form as a part of a additional containers group to provide comprehensive additional protective measures. For the troops such as building camps and bases as well as supporting and strengthen those existing buildings(Military Defensive Barier).
· Baskets of vessels must made out of steel wires covered with aluminum and zinc in a 4mm size. The units where its height exceed 2.2 m must use steel wires covered with aluminum and zinc in a 4mm size with them as well.
· The used wire to manufacture the welded mesh" Network" must has tightening capability not less than 550 N / mm square.
· The welding power, which exist in the mesh "Network" must be, estimated at least a minimum of 70 % from the tensile strength.
· Both the tightening and welding power must be very coherent when doing the sample exam.
· The containers must be available in 12 different sizes at least to provide flexible structural design for protection. In addition, they must also provide loading unit in a special design.
· The system must be stackable for permission to build high walls.
· The measurements must be ranging between 600 mm until 2.1 m length and between 300 mm until 2.1 m width.
· The dust loaded containers design must allow the possibility of installation to rotate in 45 and 90 degree in a linked barrier wall. It supposed not to have gaps such as entry point, fire lines or low protection against shells in barrier system.
· The military defensive barrier units must be ready for packing rough substance consist of particles.
· The particles form must allow them to be fully packed.
· The engineering containment system "the military defensive barrier unit "must be packable by building tools which available in the military stock. For example, small loading shovels, loading shovels, which has medium and large front end and finally excavators and the ones with front end.
· The Individual Unit must be depending on itself.
· The Hesco sangar unit must be self-support and stable while loading.
· The empty sand bag unit must be foldable and storable when needed.
· The units installation " collect and re-use" depending on request based on those specifications, must not need more than training hour to train a person who has less experience or no experience at all in building. Where its documents are considered to consist of instructions about collecting and necessary repairing, it must provide with hesco sand bag units, as the necessary training to the safety collection for enough in general form to collect all sand bag units with considering repeat the building scenario model.